GCC Friday Christmas Ride 2018
Great to see all the Christmas bling out on our ride this morning. Post ride breakfast at O'Donnels was just delicious as well. Thanks everyone for joining in and making it a fun morning.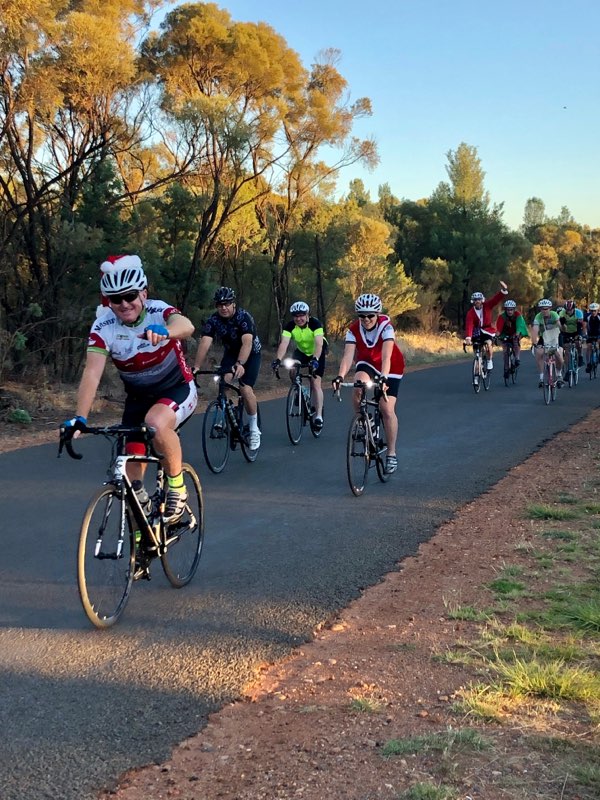 (out near the lake, Dec18)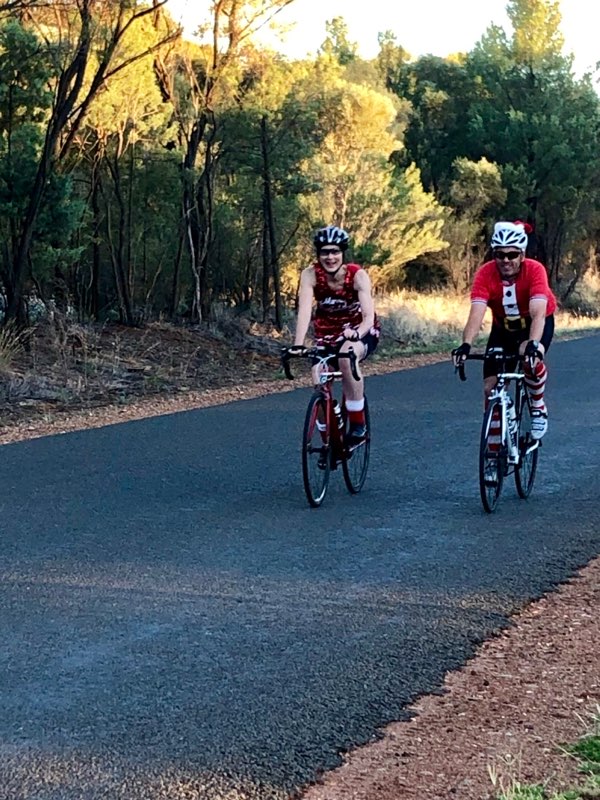 (Mr and Mrs Claus)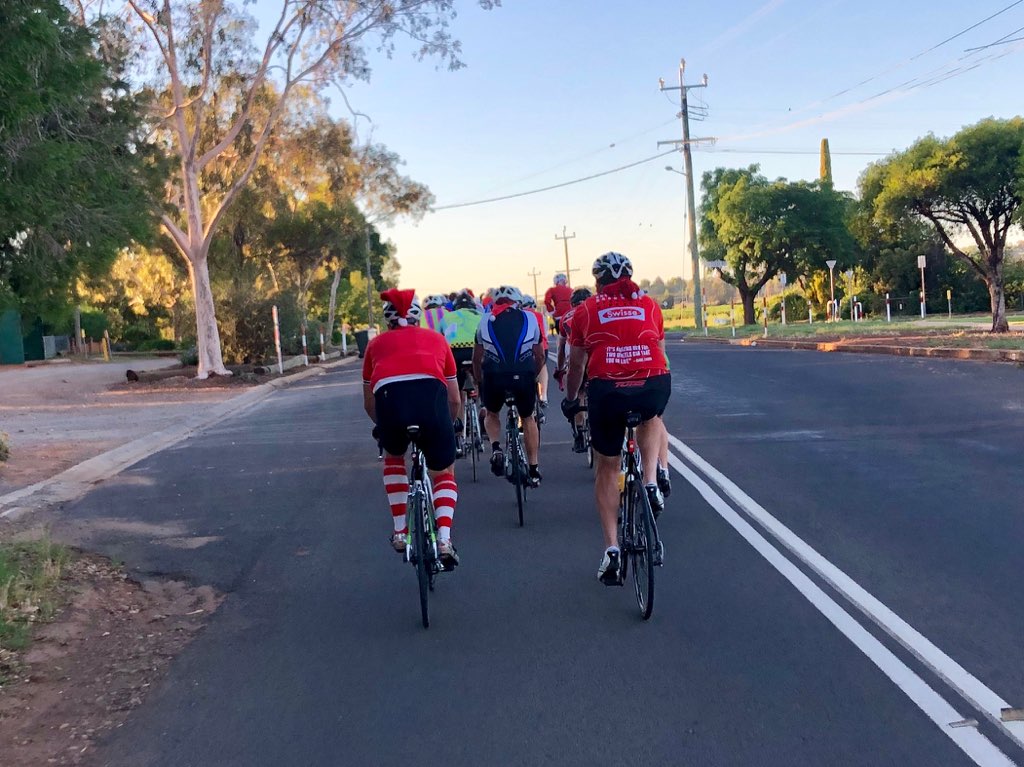 (Coming through the village)
((Griffith Cycle Club's own Elf on the shelf)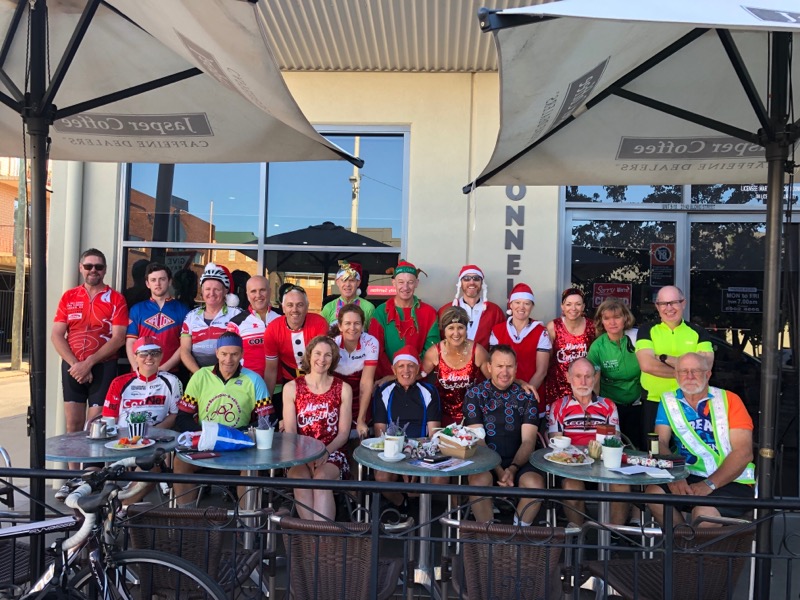 (Egg and Bacon rolls at O'Donnells to end our ride)
Griffith Cycle Club Xmas Party 2018
A few social pictures from our club Christmas party. Thanks again to Sarah and Andrew Trotter for hosting. You did a wonderful job!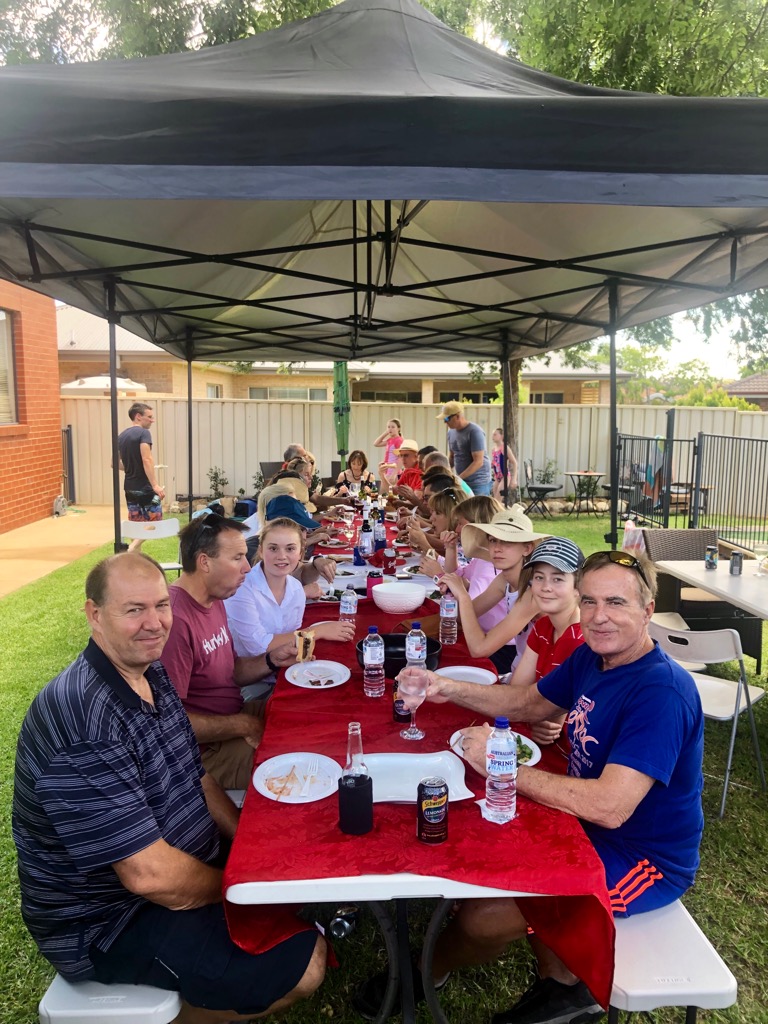 (GCC Long Table lunch)
(Peggy takes the Handbrake award)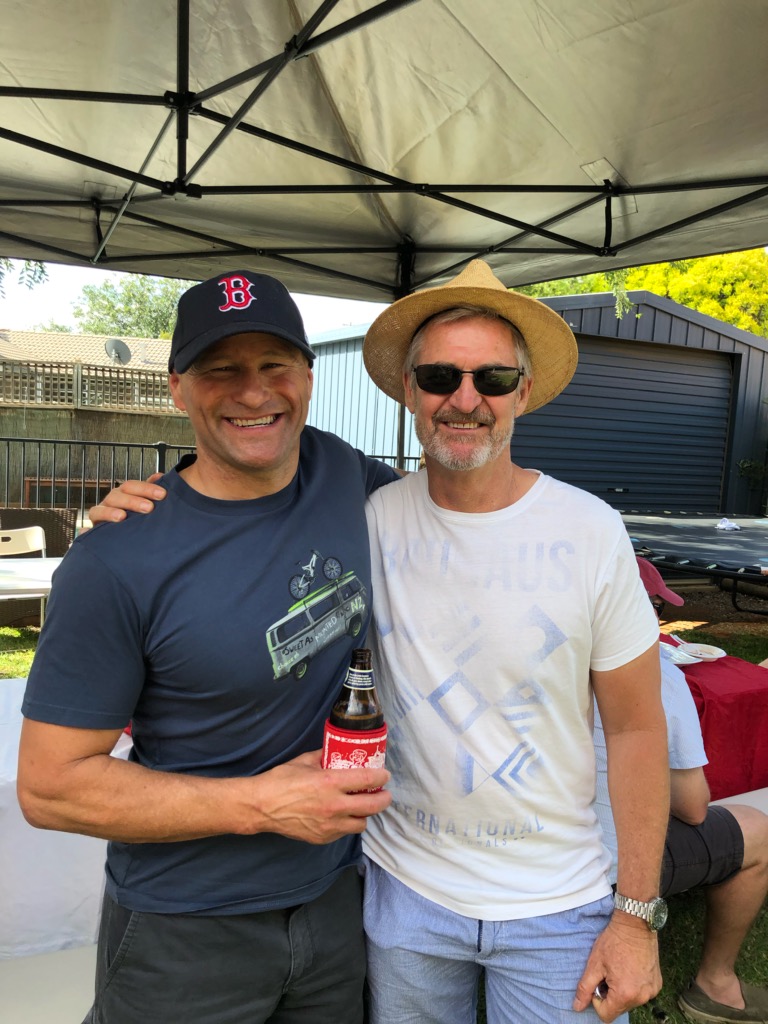 (Stew and Mark)
(The South African connection plus one: Jenni, Kingsley, Lynda and Ray )
Tom's Cycle City Cup 2018
Today saw the final round of Tom's Cycle City Cup, and a conclusion of club racing for another succesful year. It was great to see Adam Johnson take his maiden win today- he's sure to be back in 2019 to add further wins to his club racing career. Well done Adam. It was also great to see some new members step up to the plate and try club racing this year- lots of laughs interspersed with some challenging racing.
It was a well fought pointscore series this year with placings being shared across handicap groups. 1st: Michael Wynne (126 points), 2nd: Michael Andreazza (120 points) and 3rd: Kingsley Massey (117 points). Thanks to all our volunteers, particularly Greg Pattison who commissaired the majority of our races and did a great job with the handicapping. Thanks also to Tom's Cycle City for their ongoing support of the Griffith Cycle Club, and in particular, our pointscore handicap series.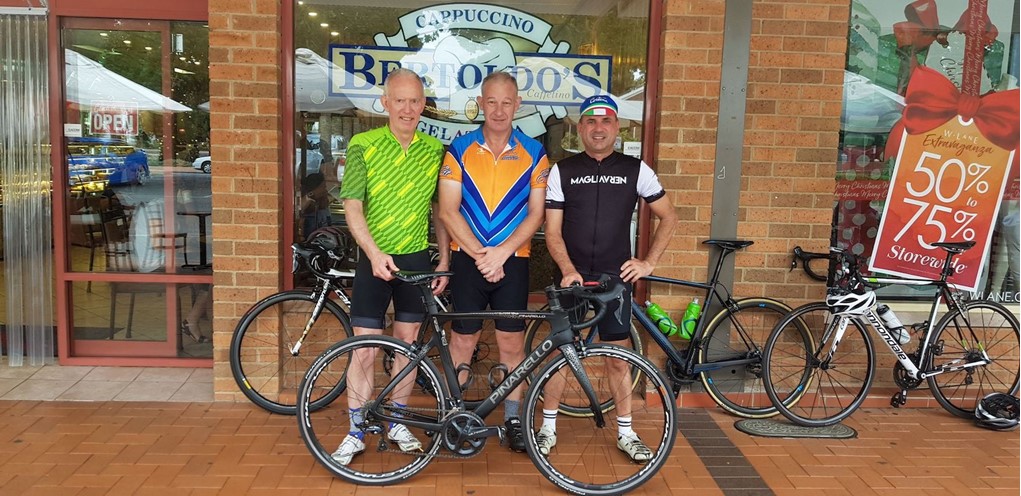 GCC Road Race Championships, 9th Sept 2018
Whilst the numbers may have been down on previous years, the competition was still fierce for those riders who lined up for our 2018 road race championships. Results as follows:
A Grade: Malcolm Blake
B Grade/Women's: Bronwyn Jones
C Grade: Jack Trimboli
D Grade: Tony Jones
Many thanks to our volunteers who helped make our race happen today- much appreciated.
(Below: Combined C and D Grade, left to right, Tony Jones, Sarah Trotter, Jack Trimboli, Michael Andreazza, Michael Wynne, George Rigon, Mark Palmer)
C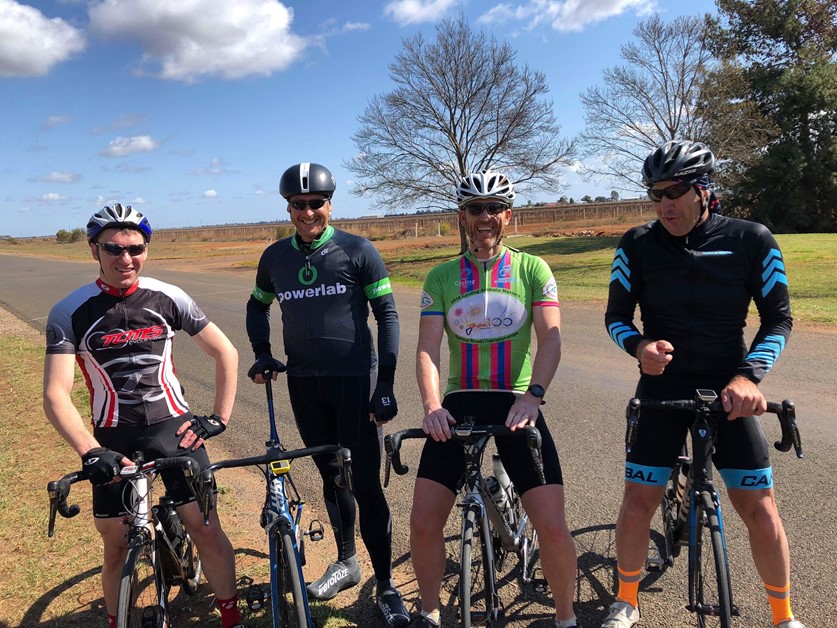 ( Above: A Grade contenders, left to right, Mal Blake, Mitch Harrison, Craig Tilston, Grant Elwin. I think Grant is thinking "how did I end up being put with these blokes!")
Dean Carter Memorial Inter club, 20 May 2018-
Almost 50 riders from across the Riverina lined up for the Dean Carter Memorial handicap today (15 from GCC). The handicapper split the field into 5 groups, with all groups coming together before the finish line to make for a great bunch sprint. The line was dominated by the jerseys from Tolland CC, with Peter Treloar (Tolland) coming up trumps with line honours and fastest time. Well done Pete. Alice Debney (again from Tolland CC) took out first female. Mal Blake and Jennifer Massey took the honours for first male and female local rider. A couple of special mentions: 1) To Jason Minato for racing his 20th consecutive Dean Carter, and for ensuring there has been a Minato (Robert and/or Jason) in every single race since it started, and 2) to Ros Nugan and Adrian Piccoli (GCC) having their first race in an interclub race- awesome effort. Also thanks to our volunteers- this event can't run without you.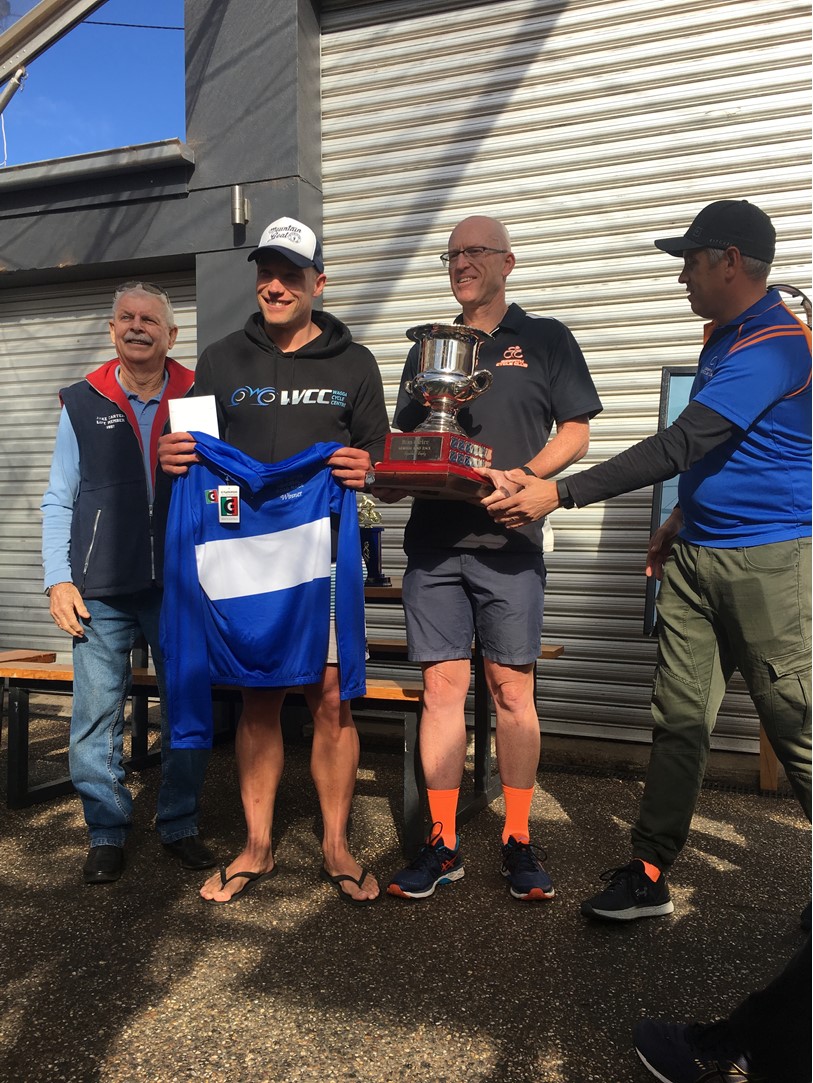 (Peter Treloar, line honours and fastest time, from Tolland CC, with Jake Carter, Craig Tilston, GCC President, and Jason Minato, GCC Riverina Rep)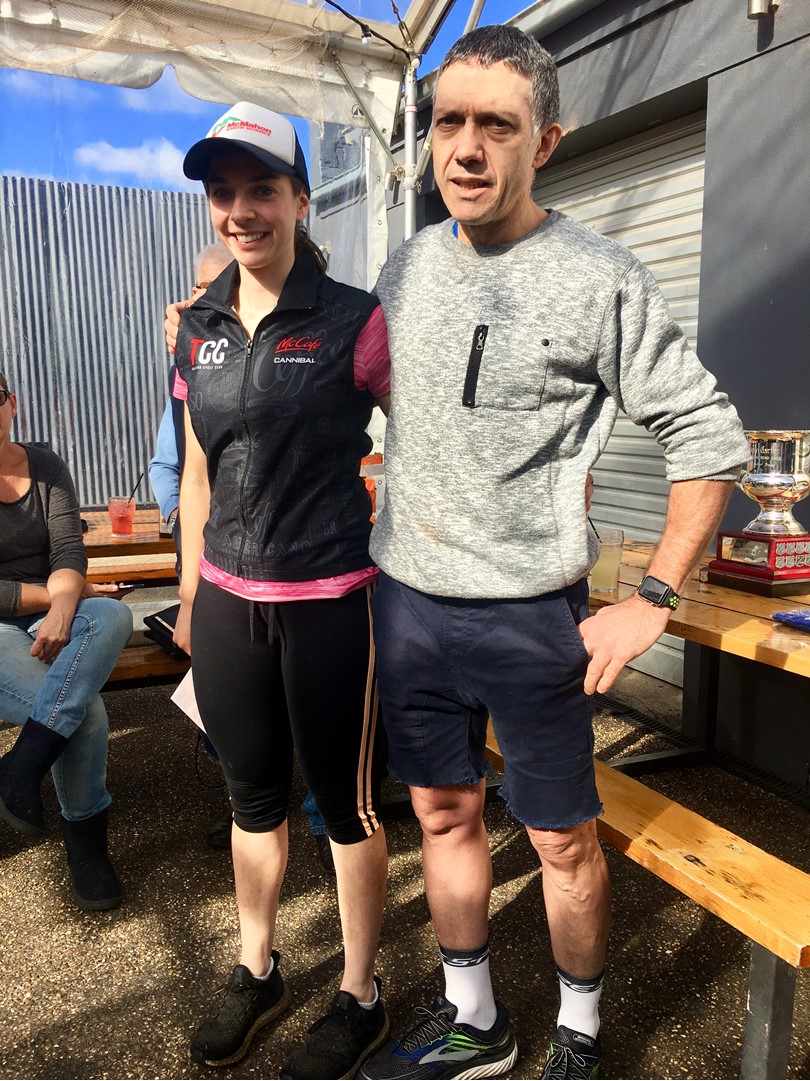 (Alice Debney- first female, from Tolland CC, with Steve Bertoldo, sponsor of 1st, 2nd and 3rd female)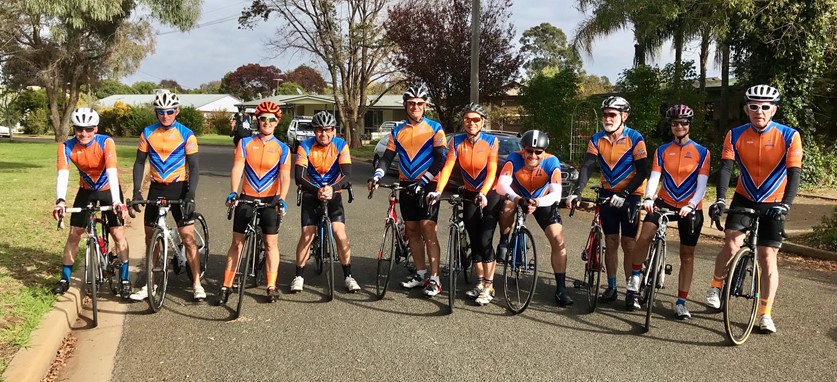 (some, not all, of the GCC members lining up for the Dean Carter)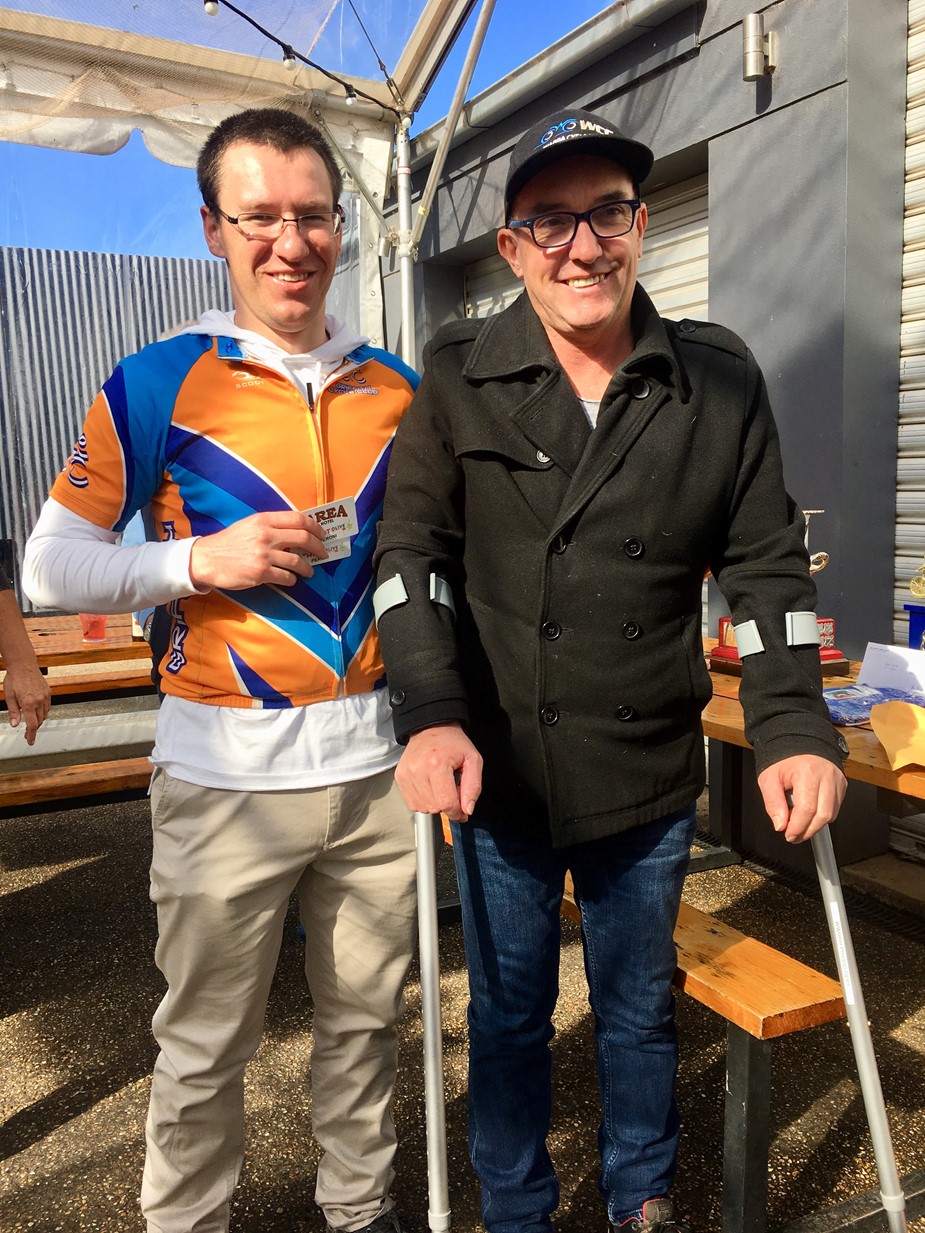 (Mal Blake, first and fastest Griffith male rider, with Andrew Bradley, first local sponsor)
(Jennifer Massey, first and fastest Griffith female rider, with Andrew Bradley, first local sponsor)
GCC Individual Time Trial Championships, 13 May 2018-
19 riders lined up for our ITT club championships this morning. Welcome to Adam Johnson having his first race with GCC, having been shown no mercy by the handicapper, racing in A Grade. Take that grading as a badge of honour Adam!
Results as follows:
A Grade: 1st- Mal Blake, 2nd- Craig Tilston, 3rd- Mitch Harrison, 4th- Dennis Irvine, 5th- Kinsgley Massey, 6th- Adam Johnson
B Grade: 1st- Dick Hore, 2nd- Peter Stockwell, 3rd- Bron Jones, 4th- Ros Nugan, 5th- Mark Palmer, 6th- Adrian Piccoli
C Grade: 1st- Sarah Trotter, 2nd- Tara Payne, 3rd- Michael Wynne, 4th- Michael Andreazza
D Grade: 1st- Tony Jones, 2nd- Peggy Carpenter, 3rd- George Rigon
Thanks also to everyone who volunteered- much appreciated. Our races couldn't happen without your help.
B2B (Blayney to Bathurst) 2018-
A great weekend was had by those GCC riders who recently participated in the B2B. Highlights included a podium finish for Jennifer Massey (2nd in her age category)! The three riders who achieved UCI world masters qualification by finishing in the top 25% of their respective age divisions were Jen Massey, Peter Stockwell and Dick Hore.